Progressive Press Reloading Part 1.
I have not seen a lot of info here for people who own, or are thinking about using a progressive press to reload ammo for their Desert Eagle Pistol. It might be good if the Mods can sticky this thread.
So I am going to go thru from start to finish how to make ammo on this type of press as an informative guide for people who dont currently reload ammo. The main purpose is to give those people some perspective on what is involved with setting up a progressive press. I am going to do this for 44 magnum, but the same procedure can be applied for over 120 other calibers on the RL550B progressive presses.
This is not an exact way of making the ammunition on this type of press and I confess that I am certainly not an expert on this subject. You should always follow the instruction manuals which come with your press to the letter, and if in doubt- call or email the manufacturer (Dillon in this case) if a problem occurs. They have a very good website with lots of technical help online. I will list a link to this in the next part.
Before we start let me say that I am not going to bag the single stage presses. Both single stage and progressive are good for reloading period, and it comes down to what your needs require as to what you will end up using. Generally Progressive presses are more expensive, however this cost is easily re-couped within a thousand rounds -Especially with large calibers like 44 magnum and 50AE.
Ways to save money $$$$$$$$$$$$$$$$$$$
Reloading is all about saving $$$, and lots of it. Relatively speaking you can pay off your reloading gear within a few 1000 rounds depending on what caliber you reload, and as much as we like buying ammo and giving our money to the shops there is nothing quite like turning up to the range with your own ammo-knowing full well that it cost you half or sometimes 1/3 what the guy in the next bay paid.
First, a smart reloader buys as much supplies in bulk as possible. Buy projectiles, powder, brass and primers in bulk and save heaps on the overall cost of reloading.
Become a complete brass hound, and pick up brass if you see people have left it on the ground because its often reusable. Brass is the one component that is worth keeping because it can be used multiple times. Up to 8 or more times with smaller calibers depending on how it was loaded. If you currently dont reload but have thought about it here is one example of a saving which is fantastic.
I am located in New Zealand, and in general ammo is waaay more expensive here than it is in the USA so all the more reason to reload ammo for me. The difference is amazing, especially with calibers which are rare like 10mm Auto and even 50AE.
I worked out that a box of 10mm Auto ammo (50 rounds) costs about $25 NZD to reload. However a box in the store here is $75! Thats a saving of $50 a box! Woohoo! Amazing huh!
So every 1000 rounds costs $500 NZD to reload, a saving of $1000!!!!
Thats more money for more guns
Progressive or Single stage?
Progressive presses have a few benefits over single stage presses, number one being that once the press is set up you can pump out hundreds of rounds in only an hour or so (depending on how fast you are). The progressive press also means that with each pull of the handle you are making 1 finished bullet. Another bonus is that most progressive presses (for example Dillon's 550) are easily interchangeable with different calibers - meaning you can swap the tool head out of the press, change the caliber plate and primer tube and away you go for another caliber. Usually the change of caliber takes about 5 mins.
The RL550 I use comes with a basic set of allen keys for adjustments and also a couple of multi sized wrenches.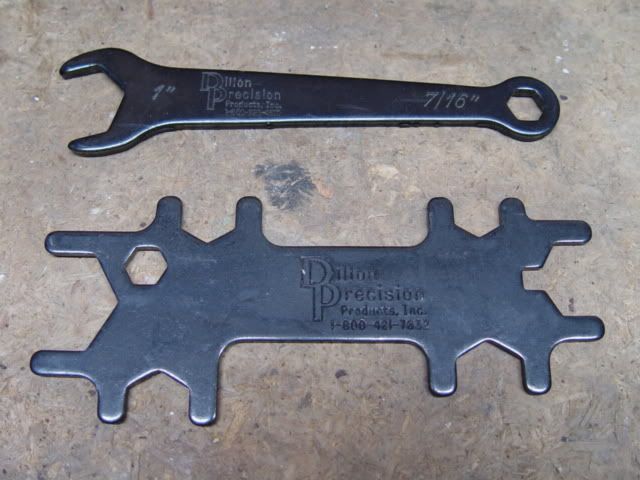 It has a few other mod-cons which come in handy such as a warning buzzer which goes off when you have 3 primers left in the tube, handy!
A low powder sensor is also available although I dont have it.....which does the same thing, only it alerts you to a low level of powder in the powder hopper. A casefeeder and primer tube filler are also available and make the whole reloading process almost fully automated..however these additions are expensive. You can also get tool head stands which allow a nice way of storing different caliber setups when you're not using them.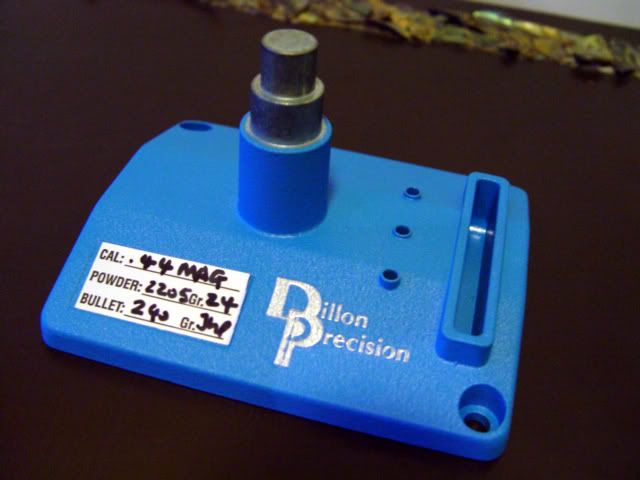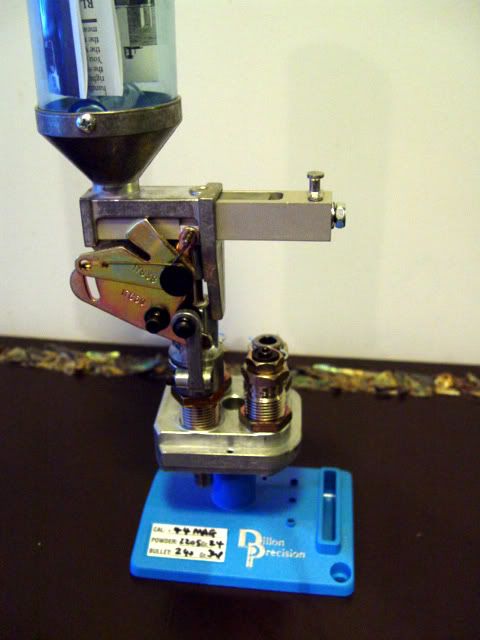 All the dillon parts/dies and other stuff comes in little blue boxes which is nice. Helps to keep all your gear tidy and....its their colour...go figure.
The dillon presses come with a tool kit and there are numerous other options which you can use to customise the press to your needs. I personally reccomend the Strong Mount, as this elevates the press above the workbench and makes it easier to clean.
I only have experience with the Dillon RL550B press, but have found it to be reliable and well made. Parts for this press are easy to get and are often nicely powdercoated in Dillon blue...which looks lovely when the press is all set up. There are other makes of progressive presses that also work well however the info for this 'How to' is based on the Dillon style presses.
What you need: Hardware.
IMO if its worth doing then its worth doing right the first time. If you cant afford to get all the reloading gear right away then work up your gear over a year or so. Often there are things that you can buy for your press that may or may not save you time. Figure out what will work for you and get it. I have all the items which make reloading easy, and save me lots of time...after all...I want to be shooting not reloading!
Progressive reloading press.
In this case a RL550B Dillon.
I have mine already set up, but the set up of dies and making of the ammo is something we will tackle in the next part to give you an idea of how to use a progressive press for those who currently have single stage presses.
Scales.
Preferably Digital scales are best(make sure your batteries are fresh) but any powder scale is fine. Digital scales can accurately measure down to a 100th of a gram, or a 10th of a grain which is useful and saves you time. Also good if you dont see all that well, because you dont have to squint to see the read-out. They are a lot more expensive than mechanical scales but IMO if the times worth saving then the money's worth spending.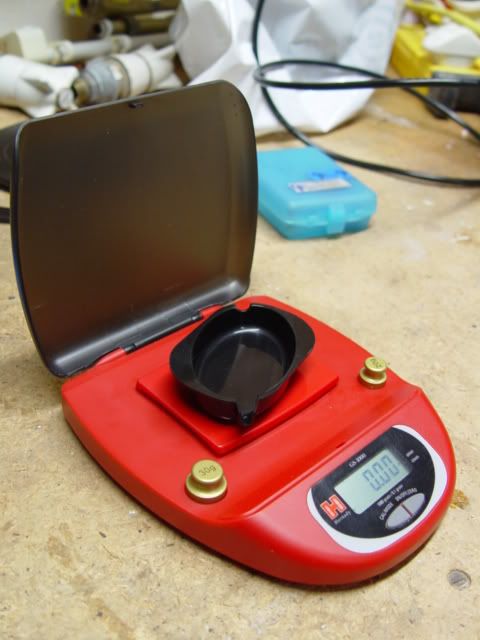 Primer flip tray.
Made by Dillon, but usable by any reloader. This simple tool is a godsend and saves heaps of time. Simply pour the primers onto the grooved side of the tray and shake them lightly from side to side. They will all flip the right way up and then all you need to do is put the lid on the tray and turn it over. Take the lid off the tray and they are all ready to pick up with the primer tubes. This is also a lot safer than handling the primers with your fingers.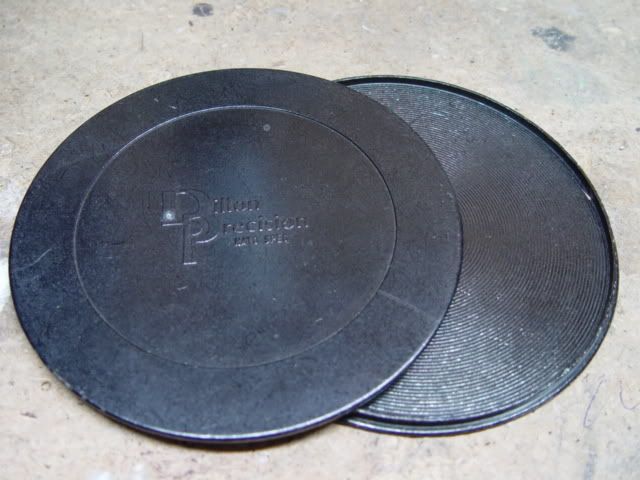 Caliber conversion Kit.
This kit includes the powder funnel, locator pins and the shellplate. These parts will be explained later in Part .2 and are integral to the progressive press system.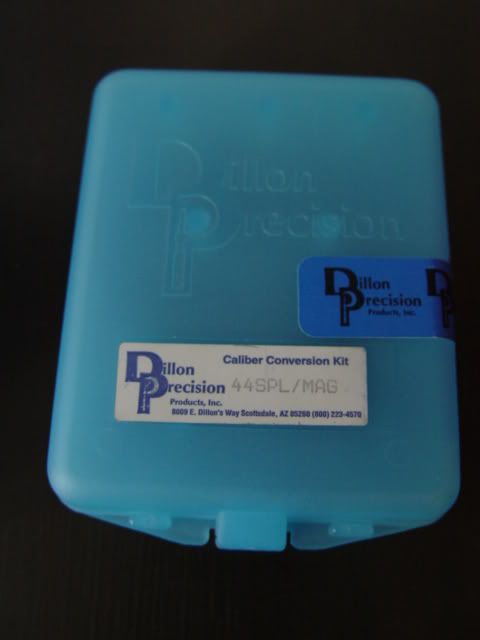 Dies.
All Dillon sizing dies have inserts which are made from Tungsten Carbide or WC, a super strong metal-ceramic alloy that stops the brass cases sticking to the dies (although for best results use case lube) and means they last longer and are tough as.....well they're really hard!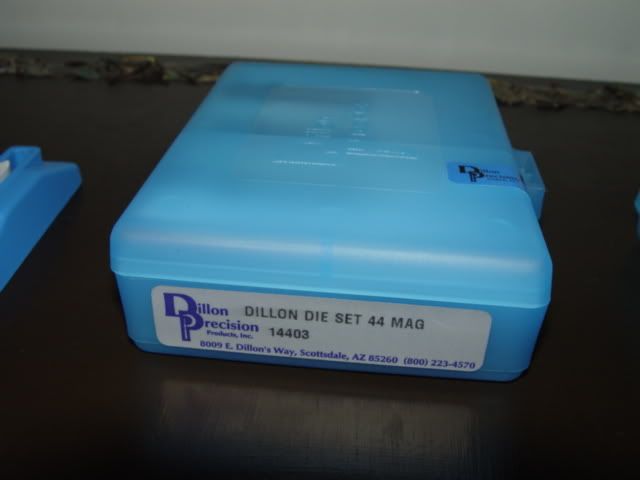 Powder Hopper/Measure.
This is the part where your powder goes in. It's clear plastic so you can see how much powder you have while reloading. The measure bar is the part sticking out and moves back and forth measuring and dropping powder into the case with each pull of the handle.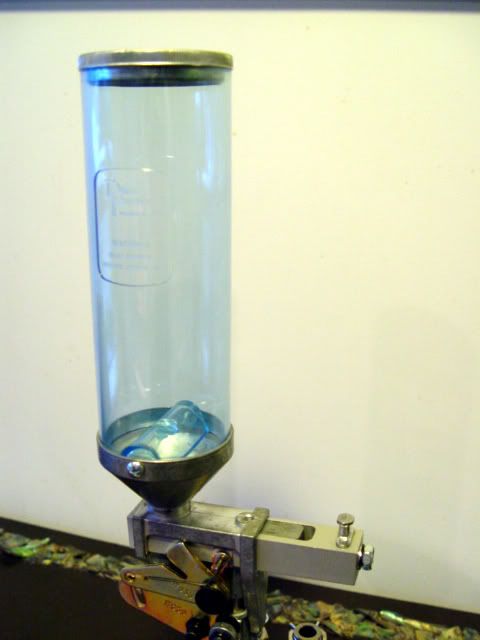 Case tumbler.
Not necessary if you are using brand new brass, but any reloader will tell you clean brass is where its at. Case tumblers aren't cheap, but they are great to have and do an otherwise tedious job....so you can be out doing something more worthwhile.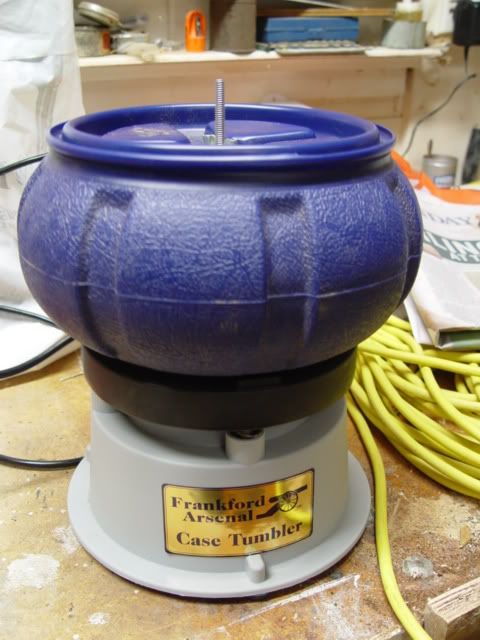 Components:
Brass.
Good brass is key. Once fired brass, or new brass is best because it lets you keep track of how many times it has been loaded and fired, this is important for obvious safety reasons. Check that your brass has no cracks around the base and case mouth where the bullet was. If it has bulged a little around the bottom prior to reloading that is fine as it can be re-sized in the sizing die. I have found Starline to make very good brass for reloading, and reasonably priced too. It is the most expensive component of reloading, but this is easily recouped because it can be reused over and over again. Buy these in bulk and reduce the overall cost of your ammo if possible.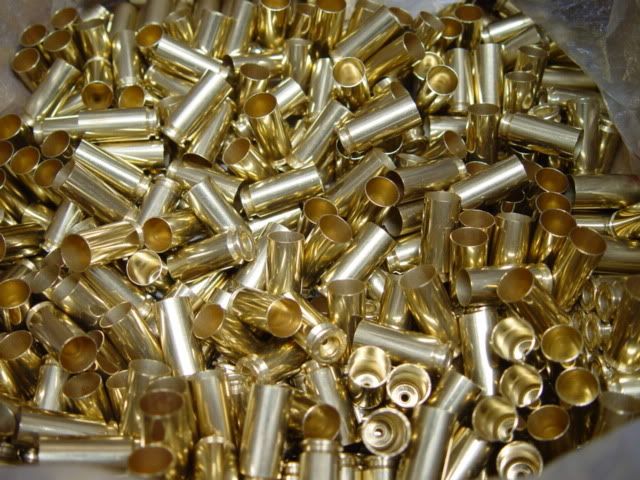 Projectiles.
Again an important component. Use good quality jacketed projectiles to prevent wear and leading in your firearm....especially important with the Desert Eagle gas system. I will be using Speer Gold Dot 240 grain and Hornady XTP 240 grain projectiles for this 'How to'. Buy these in bulk and reduce the overall cost of your ammo if possible.
Primers.
Magnum pistol primers for the 44 Magnum ammo. Buy these in bulk and reduce the overall cost of your ammo if possible. Usually sold in 1000 lot boxes. Not terribly expensive. Federal and CCI make the good stuff IMO.
Powder.
A moot point depending on what your intentions are, what you want to shoot and what kind of shooting you are doing. For example with 10mm Auto you can measure the powder to make fluffy bunny soft loads with not much recoil for practicing.....or with more powder you can cook up nigh-on Nuclear loads that will scare small children and take out large animals etc. This can also be done with .44 Magnum. I am using a Hogdon H110 equivalent called AR2205. It is a very fine grained, very fast burning rifle powder suited to .22 Hornet loads but also useful in Magnum pistol loads. Remember to store your primers and powders in water tight bags/containers...away from your house(garden shed is good) out of direct sunlight in a cool dry place.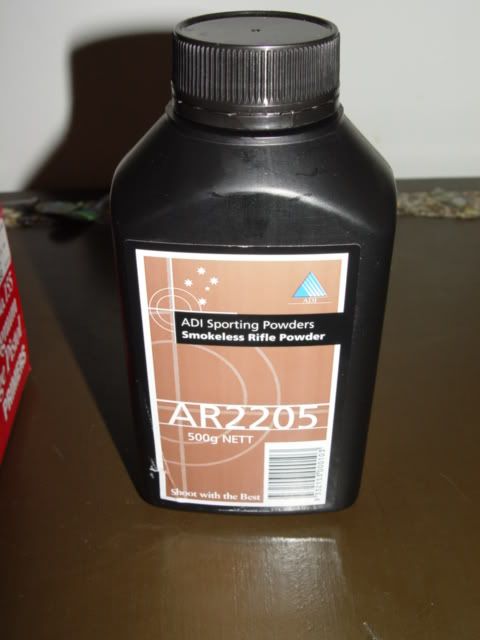 In the next Part I will go over how to set up the press for 44 magnum and how to calibrate the dies on the tool head.