The old story that the sights are set for 100 yards never panned out well for me.  First, if I'm going to shoot 100 yards or farther, I'm going to use a scope.  So it should really hit at point-of-aim at 25 yards.  Second, I tried shooting off sandbags at 100 yards.  I was a foot high at 25 yards, and 3 feet high at 100 yards.  
So I finally just went and welded up the front sight, and did some shaping with a file and stone.  Yes, it looks a bit like a shark fin now.  But it hits close enough to point-of-aim at 25 yards that I can live with it.  Actually, I was thinking I added too much, and would able to file it down to hit where I want it to. But it turns out I was pretty close right away.  
I ended up adding .100" to the height of the front sight.  Ammo used was some handloads using a 350 gr. XTP.  I had previously run them across the chronograph and got 1250 fps.  
Now I just need to find something to finish the sight with.  I don't think paint would hold up all that well, and I've never had much luck with cold blue.  Maybe one of the spray & bake finishes.
Here's what it looks like next to a standard front sight: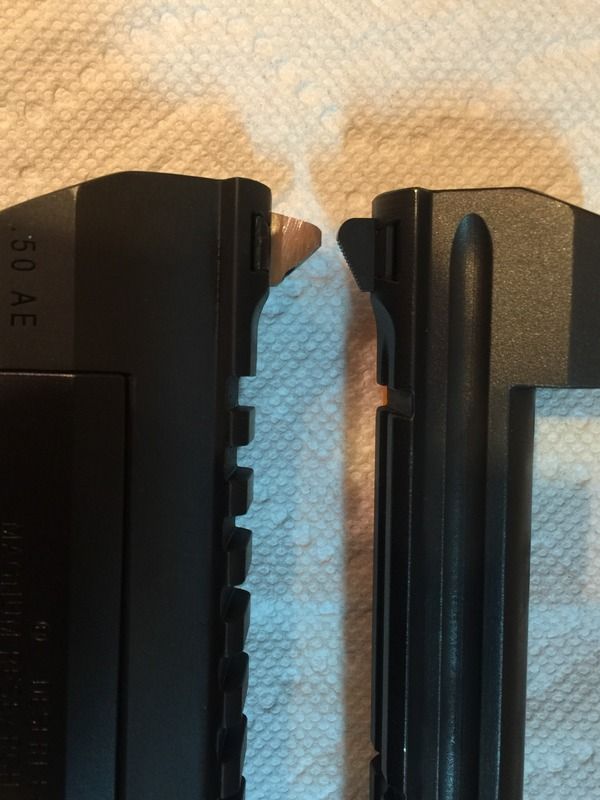 And a comparison looking down the barrel:
And here's what the target looked like.  Windage is a little off, but that's easy enough to correct.