I have mounted various optics on my DE barrels over the years, and have made a few observations.  In going from the MK-VII to the MK-XIX, Magnum Research changed from the little 3/8" rail to what appears to be a Weaver rail.  This later was changed from a 2-slot rail to a multi-slot rail that resembles a Picatinny rail.  It's a matter of personal preference whether or not this latest iteration is considered an improvement (I like the 2-slot rail better. The multi-slot is an ugly hand-grater).  
Unfortunately, a passing resemblance is as close as this thing comes to either the Weaver or Picatinny rail.  I say that because:
1) The rail is not as wide as a Weaver or Picatinny
2) The slots are wider than a Weaver or Picatinny
3) The slot spacing is wider than a Weaver or Picatinny
We end up with a situation where the DE rail is "close enough"... except when it isn't.  For refrence, here's a .50 barrel and a 2-slot .357 barrel between an AR15 upper, which has a standard Pic rail.  Note how the slots all line up at the left side of the picture.  And how they are not at all lined up on the right.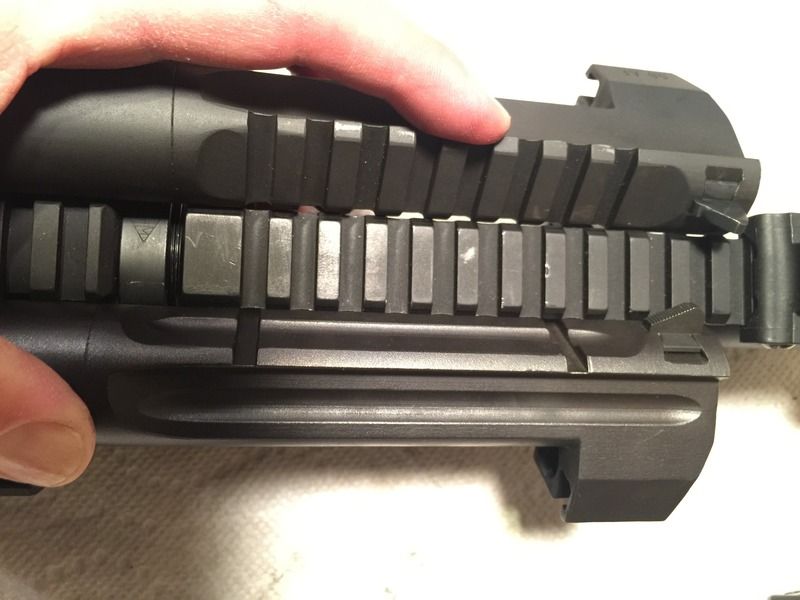 Now with the rail being just a little too narrow, there are a number of scope rings that don't fit on the DE barrel.  You tighten them down all the way, and they still have some side-to-side slop.  Other rings have a little more travel built in, and seem to do okay.  
Rings I've found that work are Millet Angle-Loc rings, and Warne rings.  I have also successfully mounted EoTech and Bushnell Holosights to the DE (although the EoTech is huge).  
The problem this causes is you are somewhat limited on what you can use to mount scopes with.  The rail its self would put most scopes too low, causing the scope to hit the slide or barrel.  
The location of the rails also would position most scopes too far forward.  So you have a couple of options here.  MRI makes a riser that bolts to the rail, and extends rearward.  They also make an offset, raised set of rings. These allow the shooter to use either the scope or the iron sights.  They look like this:
The issue with both the riser and the rings is that THEY ARE CRAP.
Both are cheeply made aluminum parts.  MRI tends to inflat their price on most all accessories they sell, and even they only charge $20 for a set of rings.  The riser extends back over the ejection port, allowing one to mount a scope farther to the rear.  But I have also experienced malfunctions where the extended rail trapped the ejecting brass.  
I had bought the riser for my .44 barrel, hoping it would provide a wider rail. Unfortunately, it is the same width as the integral barrel rail.  I even thought about shimming the two halves of the riser to make it wider, but finally decided it was not worth it.  
Now if MRI intentionally made a non-standard rail so they could sell more of their own scope rings and other accessories, I can sort of understand. But why do they think a person would pay anywhere from $1200 to $2000 for a gun, and then be happy with a $20 POS set of scope rings?
So what is everyone else doing to mount optics?  I've got a couple of thoughts, but wanted to hear what others have done.